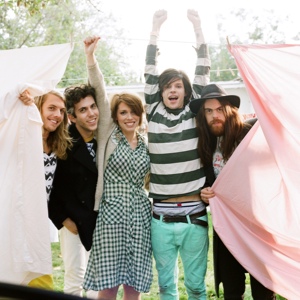 HANNAH HOOPER, the once incredibly crowd-shy and complete artistic hermit turned co-singer for shooting starsGROUPLOVE, speaks to RACHEL BARNES about gratifying recognition and an artistic freedom she could never have imagined.

Nominated for Best Breakthrough Artist at the UK Festival Awards, California-based indie pop act Grouplove are still trying to get used to the recognition. Any band would be envious of the amount of success Grouplove have been enjoying since forming just two years ago. The recent acknowledgement is reinforcement to the band that they're doing the right thing, inspiring them to write more so they can play more. "To me it totally feels surreal," Hannah Hooper says. "It's so exciting to be doing something that people are responding to and you're not just a crazy person hoping that someone out there likes it."

On what seems to be a non-stop touring schedule, Grouplove have been just about everywhere and although Hooper seems at home on stage now, it has taken her quite some time to get there. "It was my nightmare to be on stage," she laughs, remembering just how inanimate she used to be. Never one to even speak in front of crowds, Hooper left her days as a reclusive painter behind and worked on controlling her nerves. "Something just clicked, I think I just looked around and was like, 'Wait I'm with my friends on stage. This is great,'" she says.

Once Hooper came out of her shell the music started pouring out very naturally. She is now even able to sing songs that she has written to crowds that she once could never have imagined even standing in front of. Hooper says the amazing band dynamic is what makes everything so easy. "Just having these guys around, it sounds so cheesy but we really are all having such a good time together," she says sincerely. "It's probably because we've all been trying to be artists independently for so long and the fact that it works with friends is so much more fun."

Despite the camaraderie, Hooper says being the only girl on tour definitely has its downsides. "It's equally as fun as it is challenging at times," she laughs. Sick of fast food and long van trips, Hooper says some days she just can't take it. "Being a girl I'm just like, 'Ugh, this is just getting so gross, I can't eat anymore fried chicken,'" she says.

Greasy food and bad hygiene aside, Hooper says she would rather be touring with boys than girls because there is a simplicity that girls just don't have. "It's just fun, it just keeps everything really light," she adds. However, after being stuck inside a van for 16 hours at a time, the band always take to the stage like someone has released five wild animals. "We're really just energetic," Hooper explains. "Whether there are 20 people or 1000 people at the show, we really just bring 100% all the time." Grouplove hit our shores after their Christmas break and are more than excited about bringing their show Down Under. Only able to play small festival sets the last time they visited, Australian fans can expect to see a more multifaceted Grouplove showcasing their album, Never Trust A Happy Song. And they'll certainly be welcome visitors, as Hooper exclaims, "The reaction that we're getting from Australia its so exciting. Its incredible."

GROUPLOVE play The Zoo on Tuesday Jan 10, supported by Founds. NEVER TRUST A HAPPY SONG is out now through Warner. Seewww.grouplovemusic.com for more.