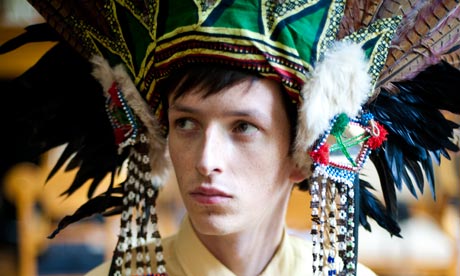 Sick of trying to make it big in a competitive music industry TOTALLY ENORMOUS EXTINCT DINOSAURS – aka ORLANDO HIGGINBOTTOM –decided to take an unusual approach to getting noticed. Speaking with RACHEL BARNES early one morning from his home in the UK, he tells all.

Despite his boyishly good looks and growing up in what one could describe as the reserved and refined university town of Oxford, Higginbottom has definitely been making a name for himself in a way he never expected. Even with an Oxford Professor for a father and the pressure of his brother becoming a doctor, Higginbottom's family have always been positive about his choice to pursue music.

"There was never any kind of demand for me to go and do something that you might call more serious. They've always been supportive about what I do," Higginbottom says.

The music scene in Oxford has always been slightly under the radar and under-acknowledged according to Higginbottom, who says, "there has always been loads going on". Inspired by jungle and obsessed with drums as a kid, Higginbottom soon found an open door into producing when his brother set up a small studio in his house. "It was very basic, just like a little computer set-up, and I think that's what kind of showed me that it was possible to make this kind of music," he says.

Unsure of where his early experiments would take him, he never once thought that dressing up as a dinosaur and making pop-infused house music is where he would find his success. Despite releasing three EPs on his own, creating remixes for artists as diverse as Professor Green, Darwin Deeze and Katy Perry, and ultimately being signed to a label and working on his soon-to-be-released first solo album, Higginbottom hasn't yet felt the need to pat himself on the back.

"It was funny. Something like that I think a lot of people would celebrate," he says of his signing to Polydor. "I was more concerned that I just got on with it. Signing a record deal is more of an opportunity than something to celebrate. You can sign a record deal and still not put any good music out. So I just wanted to get on with making the record and I think I'll celebrate when my album is out and I'm happy with it," he says.

With his first full-length underway, Higginbottom isn't letting wider popularity change his unique sound and remains determined to push forward on his own terms. "I didn't go and write a load of kind of pop-sounding hits, in fact I think I went the other way. I think I got a bit deeper and more experimental," Higginbottom says.

He might be craving to get stuck back into the creative process, but the comfort of a studio is far away at the moment. Touring for what seems like forever, there are still a lot of stops on his current tour before he can take a break from the road. Fortunately for us he is heading to Australia before he heads back to the studio. This will be his first time on our shores and though it lands right in the middle of our summer, he says he is prepared for the heat and is very excited.

"I hope to bring a good party and lots of new music and me and the girls dressed up," he laughs.

TOTALLY ENORMOUS EXTINCT DINOSAURS play Woodland on Thursday Jan 5, supported by Mitzi, WolfWolf and White Palms. For more information, visit www.totallyenormousextinctdinosaurs.com.